Can it be that solo travel is cheaper in Europe than Asia?
Times are a changing in the world of budget solo travel. When I started backpacking on the cheap over a decade ago I wouldn't have imagined that anywhere in Europe could ever be cheaper than Southeast Asia.
"Europe cheaper than Southeast Asia for solo travelers? No way dude!"
The common perception is that Europe being the most expensive region of the world to travel while Southeast Asia is the cheapest. In this article we are going to test out how cheap the two regions are against each other. I will attempt to compare like for like, e.g. capital cities, big ticket tourist attraction and day to day travel costs.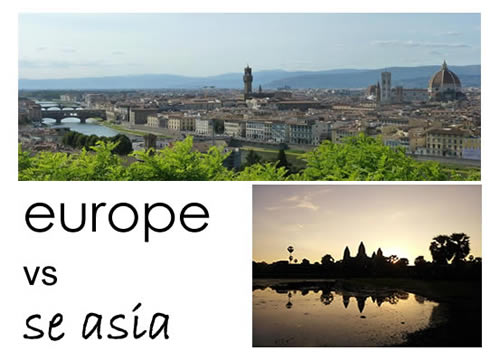 Comparing like for like when travelling is virtually impossible.
The value in this article will be how closely I can match up the two regions for a fair comparison. For instance it's impossible to compare the most expensive capitals in Europe e.g. London, Paris, Rome with the most expensive cities in SE Asia such as Singapore or Hong Kong.
The reason why I don't place too much value on these comparisons is that what you do in London will be very different to what you'll do in Singapore. London has a lot of free attractions, indeed you could spend a week just visiting some of the free World class museums whereas you could blow a lot of money in Singapore doing it's attractions.
How long?
I am going to try and work out a route in each region which would take roughly one month taking into all costs such as travel, accommodation and food.
…and attractions?
In terms of attractions I will try and pick out the most popular ones (the must sees) in the various stop offs. Of course some will be free and some won't but that's the nature of the beast when you travel. Some destinations will have more expensive attractions whereas some will be blessed with freebies.
The places we are going to 'virtually' visit…
Southern Europe – approx 2800 kms, all overland, countries visited Italy, France, Spain, Portugal
Rome > Florence > Nice > Marseille > Barcelona > Valencia > Alicante > Granada > Cordoba > Seville > Lisbon
Rome to Lisbon

Southeast Asia – approx 2800 kms, countries visited Vietnam, Cambodia, Thailand, Malaysia, Singapore
Saigon > Phnom Penh > Siem Reap (for Angkor) > Bangkok > Koh Samui > Phi Phi > Penang > Cameron Highlands > KL > Malacca > Singapore
HCMC to Singapore
What other websites suggest the travel costs would be…
I am going to have a quick look at another website for a quick comparison for a sample of the destinations above. The website is Price of Travel .com.
HCMC Daily Backpacker Index: VND378,600 = US$17.74/day
Bangkok Daily Backpacker Index: THB812 = US$24.83/day
Siem Reap Daily Backpacker Index: US$28.35/day
Kuala Lumpur Daily Backpacker Index: MYR138.40 = US$38.55/day
Singapore Daily Backpacker Index: SGD75.55 = US$56.80/day
Average cost from sample Southeast Asian cities = US$ 33 (approx)
Lisbon Daily Backpacker Index: €42.90 = US$51.07/day
Barcelona Daily Backpacker Index: €51.20 = US$60.95/day
Nice Daily Backpacker Index: €58.20 = US$69.29/day
Florence Daily Backpacker Index: €55.90 = US$76.58/day
Rome Daily Backpacker Index: €67.60 = US$80.48/day
Average cost from Southern European cities = US$ 67 (approx)
So Europe is coming out twice as much as Southeast Asia and this is probably in keeping with the common perception that Europe would be a lot more than Southeast Asia.
What should be said is that Rome and Florence are going to cost a lot more than some of the Spanish destinations so perhaps this isn't quite a fair comparison. Equally Koh Phi Phi in Thailand is going to come out pretty expensive as accommodation is costly there.
Our comparison – Southeast Asia vs Southern Europe
When?
Southeast Asia has many high seasons where as Southern Europe generally has one outside of the ski resorts. There are micro high season in Europe like Easter week in Spain but generally July and August is high season in Europe. It is worth noting that depending on where you are from, travel insurance cover for 90 days or longer might be cheaper in Europe.
In Southeast Asia the high/low/shoulder seasons are all mixed up mainly due to the monsoon seasons that dictate the best times to travel.
For ease I am going to look at October in Europe and Southeast Asia to get the costs for accommodation and transport. Other costs such as food and entertainment will not be taken into account as there is such a diverse range of options and you can easily spend as much on food or as little anywhere in the World.
Assumptions for the comparison
Travel to take place in October of 2016
Accommodation will be based on one person, minimum single room
Transport to be the cheapest possible by land
All prices to be converted into US dollars for ease. Exchange rates as of April 2015.
Rome, three nights, October 1-3, Hostel Beauty, Single room $90
HCMC, three nights, October 1-3, Yens Hotel, Single room $42
Rome to Florence: Train, Roma Termini > Firenze Campo di Marte $8
HCMC to Phnom Penh: Bus (Mekong Express) $26
Florence, two nights, October 4-6, Il Belfiore, single room $54
Phnom Pehn, two nights, October 4-6, Angkor Meas Guesthouse, single room $20
Florence to Nice: Bus, Sens Bus Company $35
Phnom Penh to Siem Reap, Bus (Mekong Express) $13
Nice, two nights, October 7-9, Chambres d'hôtes Bruxelles Cimiez $60
Siem Reap, two nights, October 7-9, Champei Khmer Guesthouse $20
Nice to Marseille: Train TER regional $20
Siem Reap to Bangkok: Thai Government Bus $20
Marseille, two nights, October 10 – 12, Hotel Gambetta, Single room, $45
Bangkok, two nights, October 10 – 12, Rambuttri Village Inn, $53
Marseille to Barcelona: Bus (ALSA) $24
Bangkok to Koh Samui: Bus/Boat Combination, $30
Barcelona, three nights, October 12-15, Pension Palacio, $66
Koh Samui, three nights, October 12-15, Cheeky Monkey Resort, Chaweng Beach, $53
Barcelona to Valencia: October 15, ALSA bus $20
Koh Samui to Ko Phi Phi: Ferry, Train, Bus, Ferry $80
Valencia, three nights, October 15 – 18, Pension El Rincon, $59
Koh Phi Phi, three nights, October 15 – 18, Viking Nature Resort, $92
Valencia to Alicante, ALSA Bus $20
Koh Phi Phi to Penang, Boat, Bus, Mini Bus $40
Alicante, two nights, Oct 18 – 20, Pensión Portugal $40
Penang, two nights, Oct 18 – 20, Hutton Lodge $40
Alicante to Granada, Bus ALSA, $25
Penang to Cameron Highlands, Bus, $22
Granada, three nights, Oct 20 to 23, Hostel Vita, $53
Cameron Highlands, Oct 20 to 23, Fathers Lodge, $65
Granada to Cordoba, ALSA Bus, $12
Cameron Highlands to KL, Bus $22
Cordoba, two nights, Oct 23 to Oct 25, Pension Seville, $40
KL, two nights, Oct 23 to Oct 25, Hotel Chinatown Inn, $55
Cordoba to Seville, ALSA bus, $18
KL to Malacca, Bus, $17
Seville, Three Nights, Oct 25 to 28, Pension Anda, $56
Malacca, Three Nights, Oct 25 to 28, Hotel Malakka, $75
Seville to Lisbon, Bus, $45
Malacca to Singapore, Bus, $25
Lisbon, three nights, Oct 28 to 31, Hostal Lisboa, $58
Singapore, three nights, Oct 28 to 31, Hotel 88 Chinatown, $80
TOTALS:
EUROPE $848.00
SE ASIA $890.00
So it is possible to travel through Europe cheaper than it is Southeast Asia, perhaps this is a reflection of the increasing cost of living in Asia compared in addition to the economic turmoil in Southern Europe.