Hiking & Climbing Mt Kinabalu in Malaysia
Mount Kinabalu Climb Introduction
Welcome to our pictorial guide to climbing the most spectacular mountain in Southeast Asia. Mount Kinabalu stands at 4095m and dominates this part of Malaysian Borneo. Let's go climb Mount Kinabalu.
It is focal point of the Mount Kinabalu National Park, Malaysia's first World Heritage site. Kinabalu National park is one of the richest assemblages of biological diversity and natural landscapes in tropical Southeast Asia.
– Getting to the Malaysian state of Sabah
– Staying in the capital Kota Kinabalu
– Booking Mount Kinabalu Park accommodation
– Getting to Kinabalu National Park
– Climbing permits and pre-climb preparation
– Things to do around Mount Kinabalu Park
– Climbing Mount Kinabalu – Day One
– Climbing Mount Kinabalu – Day Two
– What to do after Mount Kinabalu
How do I get to Mount Kinabalu?
Kota Kinabalu (known as KK) is the capital city of the state of Sabah and the main international entry point to the region.
A number of airlines service routes to KK but we would like to recommend www.airasia.com as they provide very competitive prices from Bangkok and Kuala Lumpur.
Many of their airlines service routes into KK from Singapore, Hong Kong and most large Malaysian cities.
You can also get to Sabah overland from neibouring Sarawalk. Kunching is the main entry port of the state of Sarawalk.
One further option is to come in from Brunei which is serviced by numerous long haul international airlines.
Where to stay and where to eat in KK
Kota Kinabalu is a modern Asian Capital City and caters for all budgets.
If you are on a tight budget then the Trekkers Lodge is a very convenient place to stay.
The Trekkers Lodge is easy to find and is in most guidebooks.
This is area of KK is very handy for the Parks office and shops for equipment you may need for the climb.
For eating then be sure to check out Sajath Curry House for excellent cheap food and all day movies. The rotis come highly recommended and they allow bring your own beer!
They also show films and sporting events. The Curry House is just around the corner from Trekkers Lodge.
Information about booking your mountain accommodation before you arrive
As Mount Kinabalu becomes more and more popular it is essential to pre-book your bed for the nights you stay on the mountain.
You are also meant to be able to telephone bookings but again this is unreliable. The only reliable way is to head to the Parks accommodation office (pictured below).
This office is not easy to find at all! If you come out of the Sajath curry house and turn right the office is located on the second block on the opposite side of the road.
One word about the overnight accommodations at around 3300 metres. Laban Rata is the only hut that has heating but be warned that the they leave the heating on all night and it is very very hot!
This probably won't be an issue if you are a local but if you are from a temperate climate you may find it uncomfortable. Our advice would be to stay in one of the unheated huts which are near to Laban Rata. It never really gets that cold around the huts.
The Sutera Sanctuary Lodges – the booking office for accommodation on Mount Kinabalu. Located in Kota Kinabalu near the Trekkers Lodge guesthouse .
Here you can book a bed at the Kinabalu Park Entrance as well as for the overnight stay high up on the mountain.
Make sure this is the first thing you do in KK – bookings can be tight but be persistent with the people behind the desk. They may tell you there are no beds even when there is!
Organising public transport to Kinabalu Park is easy from KK. Many bus companies runs services to the park entrance on their way to the eastern side of Sabah.
The place to head to organise your bus is the KK bus station (pictured left). Go there a night or two before you wish to leave.
You will be jumped on by touts as soon as you approach the station but they are friendly and will direct you to the right bus company for the Mount Kinabalu National Park.
The Bus Station is pretty nondescript place and is basically just the various bus stands.
The costs are likely to change but at time of writing it was under US$5 for a single ticket from KK to the Park.
The journey by bus takes approximately 3 to 4 hours and climbs steadily from sea level to 1600 metres and entrance to the
Kinabalu National Park
.
The buses are fairly comfortable and very cheap. Don't worry too much about which company you go with. They are all similar and will get you there.
Planning, climbing permits and equipment for a Mount Kinabalu climb
 The Mount Kinabalu National Park entrance (pictured left) from the main road. The bus will literally drop you off at this point. Simply walk 100 yards up the path and sign in at the Parks HQ.
Climbing Permits and Registering Your Intentions
Inside the HQ you will be required to write down your details and provide the staff with your accommodation receipt. They will then issue you with your climbing permit and details about your guide.
This is a good place to hang around if your are on your own and looking for climbing partners.
If you are heading straight up the mountain you will then meet with your guide that has been assigned to you otherwise you will go off to your nights accommodation around the HQ.
This is the place to stock up on supplies just opposite the park entrance. They have cheap food and other essentials for climbing Mount Kinabalu.
There are similar facilities in the park itself but this is much much cheaper! There is also a cheap cafe and they sell beer!
This is the view of Mount Kinabalu from outside the Parks HQ. You will be issued with a climbing permit that you must wear at all times!
The summit looks deceptively close even from here!
The Summit trail and Kinabalu Park complex board outside the HQ.
Finally ensure you are well prepared the day before. Here is a short list of essential items.
Essential items for the Climb up Mount Kinabalu
Head torch, spare batteries, water carry, good walking boots, waterproofs, sleeping bag, headache tablets, enough high energy food.
Things to do Around the Kinabalu Park Headquarters Before the Day of the Climb
Even if you are not doing the climb there is plenty to do around the park.
There are numerous shorter walks (if you are doing the climb make sure you do these before because you won't feel like doing them after!) around the park.
You can join in on a guided tour of the botanical gardens and check out the pitcher plants (pictured below).
Also there is a small cinema with a video presentation of the Mount Kinabalu Park and you may get to watch a video of the annual Mount Kinabalu climbathon.
Watch crazy people run up and down the mountain in a little over 2 hours!
Day one of the Mount Kinabalu Climb
The best time to leave the Park HQ in the morning would be around 11am.This gives you plenty of time to get to the mountain huts for the evening (3200 metres) but has the advantage of missing the crowds.
If you are very fit you could leave up to 13:00 in the afternoon.
You will meet your guide at the HQ and then you will be taken to the official start of the trail at Timpohon Gate (or the power station as it is known locally). This is situated at around 1960 metres above sea level and you will already notice how much cooler it is than the coastal lowlands below.
It is wise to get a minibus from the HQ to the official start although you could walk the extra 5kms if you really wanted!
These are the signs in the shelters that inform you of your current altitude and the distance to the next shelter.
These are the endless steps of Mount Kinabalu. Most of the steps are huge and some of them are even bigger.
It can't be emphasised too much that you have to take it easy up these steps. Climbing steps is generally much harder on your legs and lungs than a steady incline.

This is your typical Mount Kinabalu toilet! In fact this is a squat toilet that is found throughout much of South east Asia and you will come across then from time to time.
Most of the shelters on the way up have toilets and some even have two!
At most shelters there are tanks full of untreated water. These are perfectly good to drink as it is purely rain water. Some people would rather treat the water with iodine which is fine.
This lady is taking a well earned drink as she hauls 40KG up to Laban Rata guesthouse. For this she gets paid very little for the effort she is putting in.
This is the sign at the Villosa Shelter. Many people might start feeling the effects of altitude sickness as they approach 3000 metres above sea level. Generally only shortness of breath and lightheadedness is the worse symptoms.
If you feel very ill and have bad headaches it is advisable to go to a lower altitude as soon as possible. Taking headache pills might only mask worse symptoms.
This is your typical Mount Kinabalu shelter.

Laban Rata hut, a welcome site in the late afternoon and home for many for the night. Situated at over 3200 metres above sea level Laban Rata is one of the main Mount Kinabalu huts where people will sleep until 2am in the morning before starting the final ascent of Mount Kinabalu.
As earlier mentioned you do not have to stay in Laban Rata as there are many other huts around. Even if you stay in another hut you can still use the facilities in Laban Rata which include a nice restaurant and shower rooms. There is a nice balcony where out can sit out with a wonderful view and contemplate the early morning climb ahead.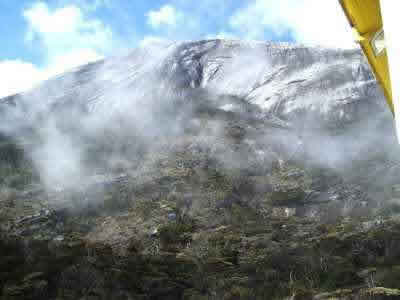 Looking up at the peaks of Mount Kinabalu from the balcony of Laban Rata hut.
Looking out from the balcony of Laban Rata rest house after day one on Mount Kinabalu.
Trekking Mount Kinabalu – Day Two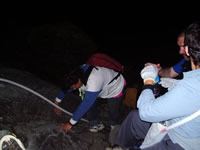 Tough work!
Alarm clocks ring out at 2am for the early climb up the last part of the mountain.
Breakfast is served at Laban Rata guesthouse from 1am and it is advisable to get some calories on board for the very long day ahead!
The rock faces can be extremely steep and the use of rope is essential to haul yourself up as you gasp for air!
Climbing Mount Kinabalu – Day Two
Sayat Sayat hut, at 3680 metres is the last mountain hut before the summit plateau of Mount Kinabalu. This check point is here to ensure you have a proper guide and that you are wearing your climbing pass.
Quite a few people only go as far as Sayat Sayat and turn back. This is itself is a massive achievement to get this far. The effects of altitude sickness really start to kick in as you approach 4000 metres above sea level.
There is actually a hut at Sayat Sayat where you can stay the night. It is very sparse and involves a very long first day but of course you do not have to get up as early as the people staying further down the mountain.
6:15am and sunrise from the summit of Mount Kinabalu. Don't get up here too early as waiting around can be very cold! If you can time it that you arrive just in time for sunrise then that's better.
Daylight at last and that rewarding feeling of making it to the highest point in South east Asia at 4095m above sea level. The hardest part will be fighting your way to the summit post in among all the people!
The summit post of Taman Kinabalu registering that you are 4095 metres above sea level. Low's Peak was named after a British Colonial chap called Low who first to summit Mount Kinabalu. Of course he probably wasn't the first!
Looking down from the summit at a few of the people waiting their turn for the summit photo.
Looking back at the summit of Mount Kinabalu. it can get pretty crowded up there at dawn!
The famous donkey's ears of Mount Kinabalu.
Looking back up at Low's Peak from where we have just descended.
The shadow of Lows Peak in the distance.
The quick exodus back through the clouds.
The welcome site of Laban Rata on the way back down for breakfast number 2. Most people generally stop here as it is about 9am by the time you get back down to Laban Rata. They serve breakfast and you can chill out before the very taxing descent.
Looking towards the South Peak of Mount Kinabalu on the way back down with Jimmy our guide.
The final picture from the rock face looking down through the clouds to the lowlands and the Crocker mountain range poking up in the distance.
A quick word about the descent. If you are not terribly fit you might find the descent harder than the ascent! Walking down these big steps is a real test for the leg muscles that you rarely use!
It is not unknown for guides to carry climbers down when they become jelly legged.
Finally enjoy the trip, tip your guide and make sure you buy the very handsome certificate if you make the summit of Mount Kinabalu.
What to do After Mount Kinabalu
Poring Hot Springs
Most people head straight to Poring Hot Springs after the climb to rest the tired legs in the hot pools. There is a range of accommodation in the complex itself and restaurants to grab some food.
There are a couple of backpacker hostels outside the complex but when we visited these they were not really fit for human habitation! If you are desperate you could always camp at the Hot Springs if you have a tent.

Sepilok Orang-Utan Rehabilitation Centre
The Sepilok Orang-Utan Rehabilitation Centre is one of only four such places in the world for the rehabilitation of these lovely beasts!
Some argue that this place is nothing less than a zoo but if you do decide to go your have some unforgettable experiences.
You are guranteed to see Orang-Utans.
Getting there by public bus is fairly straight forward from Poring Hot Springs or the Mount Kinabalu Park HQ.