The Ultimate Guide to Small Group Travel
There are many adventure tour companies that specialize in trips for small groups. Some actually target customers from specific countries and regions. We are going to look at some of the companies that tend to target the English speaking world. That's not to say this guide won't be useful for people from non-English speaking countries.
Contents >
Why take a small group tour?
What are the benefits of small group tours?
What can I expect on a small group tour?
Our reviews of small group tours (the big three)
Our reviews of other small group tours
Why would a solo traveller take a small group adventure tour?
Great question! As a solo traveller you probably enjoy all the many benefits of going alone, for example, to be able to choose where you go and for how long, being able to explore new places at your own pace and maybe being more approachable as a solo traveller.
Small group tours will obviously be a bit of change of travel style. You will usually have to stick to a pretty strict itinerary that's been created by someone else. You might be under pressure to eat at the same restaurant as everyone else. You may even find yourself under some pressure to book day tours and activities that you might otherwise not go on.
Having said all that, someone who usually goes alone might like a break from solo travel. Most small group adventure tours are only a couple of weeks and it's not that long to compromise on having your own choices about where to eat, sleep and go.
You might also be thinking of heading to a more challenging country. Somewhere like India, for instance, can be pretty challenging to say the least. Having the security of like minded travellers and a local guide could make quite a difference. After the tour you may then have the confidence to go alone.
What are the benefits of small adventure group travel?
If you are still in two minds about going on a group adventure tour then consider these benefits, as compared to going alone.
Other travellers
You will most likely meet some cool people who are likely to be like minded. Sharing some travel experiences can be very rewarding. You'll also have someone to take photos of you!
A group leader
Having a group leader who is a local could open up more ideas for you in terms of places to visit, activities and insights into the best local cuisine. They can also help if you encounter any problems and provide a safety net too.
Everything is usually organised for you
Now this could be seen as a disadvantage for some people who really prefer to organise all their own stuff! For most the it presents an opportunity to kick back and enjoy the trip without having to worry about where to eat that night, transport logistics, having to book day trips and accommodation.
The disadvantages of group travel?
Well you are probably not reading this guide if you are looking for negatives! I suppose the main ones would be being stuck with the same group of people for potentially a long time. Solos would usually share rooms with strangers too. This would 99% of the time work out fine, but you could end up sharing with someone who you'd not normally choose to share with, e.g. a snorer when you are a light sleeper.
Another disadvantage could be that you end up feeling pressured to do group activities that might not be in your budget. Finally, they do tend to be more expensive than going the independent route, but you probably knew that already!
What can I expect on a small group tour?
Speaking from experience of many group tours, this is roughly what you can expect from all of them.
Booking a small group tour
The most convenient way to book a tour is to do it online. All the companies we are going to review having online booking, as you'd expect in this day and age.
You can of course call them up too. The advantage here is that you can ask about the specific trip and dates you are going on. Some of them may even tell you the ages of the other travellers and whether they are solos or couples.
As a solo traveller you probably would rather have more solos than couples on your tour. Even if you want to book online, it's still worth calling them before to get this info.
Once booked, the company should then send through all the relevant information and joining place too.
Meeting the group
Your tour will probably start when you check into the hotel or hostel for the first night. Usually the guide will be there to meet you and will organise and evening meal so you can all get to know each other.
What are the people in the group going to be like?
Well you will meet people from all walks of life, and usually all ages too. Obviously some tours, such as Contiki, are only open to a younger age group. Others too are following this route e.g. Intrepid Travel, who are now offering trips for the 18 to 29 age group.
Some tours will attract certain nationalities more e.g. Intrepid always have a strong Australia showing, G Adventures will often have more Europeans. I will talk more about this under the specific groups.
Day to day on the tour
So you will be either travelling or probably doing some activity. The group tours don't usually insist you do the activities or day trips, so it is possible to take a 'day off' and do your own thing. In reality, you'll probably do more things because everyone else is.
Some activities are actually included in the price of the tour. These should be clearly laid out on their website. Optional activities are always optional!
Travelling can anything from tuk tuks to luxury buses. You'll know what kind of transport to expect when you book the tour. Obviously the cheaper ones will have less fancy transport.
The group will almost certainly dine together in the evening. Some tours will even include some meals, so you'd not want to miss out!
The major small group tour companies
I am not going to list them in any particular order. It's quite hard to compare them all because they can offer very different experiences and tours.
Intrepid Travel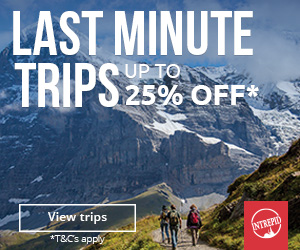 Intrepid are one of the largest small group tour companies in the world. They are originally out of Australia, but have offices in many other countries now.
Their range of tours and countries is very extensive. They currently claim to offer tours to 120 countries, that's over half the world!
Searching their site can be a little overwhelming due to all the options. For instance, you can search by the following parameters:
Travel style – they have tours from their basix to luxury, so catering for a wide range of budgets
By Activity – Intrepid offers many specialist activities such as trekking, cycling, foodie tours, volunteering too!
By country – Intrepid covers an impressive number of countries, on every continent!
Their website is easy to navigate and the booking is smooth. You should make sure you select your own country when browsing. Sometimes their exchange rates are a little out of sync with the market. if you can pay in other currencies, then you could save some money.
What types of people can I expect on an Intrepid tour?
Intrepid is very much dominated by English speakers. Australians seem to make up the largest group, but this might not always be the case. It's probably more likely in destinations around Asia/Pacific.
You will likely encounter people of all ages in an Intrepid trip. They do have age specific tours though, 18 to 29 for instance. Similarly they have more luxurious trips that are going to attract older people with a bigger budget.
How ethical and responsible is Intrepid Travel?
They score very highly on this. They have been a carbon neutral company since 2010 and claim over 2000 carbon-offset trips!
They also invest in local communities and employ local people, particularly as guides.They also invest in human rights initiatives, wildlife conservation projects and the environment.
Intrepid is also making great progress but employing more females guides.
Review of Intrepid Travel
We certainly recommend Intrepid due to the vast areas they cover and their costs. They attract a broad spectrum of travellers, many of which will be solos. Their trips usually have a limit of 16 travellers, although many have a limit of 10 or 12.
We'd also recommend keeping an eye on their last minute deals, as there are some great bargains to be had, with significant discounts.
---
G Adventures
G Adventures (formally Gap Adventures) is another major player in small group tours. Founded in Canada, they now boast trips to over 100 countries, and are award winning with National Geographic tours of a lifetime.
All their tours are conducted in English so tend to attract people from the English speaking world and Europe too.
Like Intrepid, they have many travel styles, in fact they do very well on this. They have everything from marine tours, rail tours, cycling, hiking, wellness, cooking and their classic tours too.
They also cover many countries, over 100 apparently!
What kind of people can I expect on a G Adventure tour?
G adventures seem open to anyone of any age, but it seems their main market is younger people. Like Intrepid, they do offer trips specifically aimed at young people up to their 30s. We know of people who were in their upper 30s and felt a little old on these specific trips. The feedback was that most other travellers were early 20s.
So if you are over 30 then you might want to avoid these specific tours and stick to the ones with no age limits. The "basic" and "yolo" trips are the ones that tend to attract the younger travellers. We have also read reports that people as old as 60 have been on certain tours, particularly those in South America. Other reports have suggested 40s to be the average age on some of these tours.
As with all tour companies, the more expensive the tour, the older the guest will likely be. The very budget ones tend to attract younger people as they have less money to burn, particularly those on a gap year.
As mentioned before, G Adventures is overwhelmingly an English speaker dominated company, certainly in terms of the other travellers.
G Adventures responsible travel
G Adventures also score very highly in responsible travel. They seem to particularly focus on small local companies which they use during their trips, particularly locally owned businesses. This is really great news all round. It's very easy to ignore smaller businesses when travelling, because large corporations can dominate places.
G Adventures also places great emphasis on animal welfare. So many popular tours can actually involve mistreatment of animals, usually behind the scenes e.g. elephant trekking in Thailand. G Adventures appear to be very hot on this topic, ensuring they use local operators who don't mistreat animals.
Review of GAdventures
G Adventures scores very highly as a small group tour provider. They are a big business, but seem to have their hearts in the right place when it comes to responsible travel.
Group sizes are similar to Intrepid, coming in around 10-15 per trip. Ages vary widely, but be careful to avoid their 20 to 30 something tours if you are at the upper end of this scale! That's not to say you cannot have a great time with younger people. Most travellers are pretty open minded anyway.
Their tours tend to be a little more expensive than Intrepid, but not significantly so. We certainly recommend them.
---
Contiki Travel
Contiki are another heavyweight in small group travel. It could be argued that they are not really small group, as many of their tours involve full sized coaches, but they do have smaller groups too.
Contiki's market is firmly aimed at young people. They advertise their tours for ages from 18 to 35. We have read many online reviews and reports, and most travellers will be at the lower end of that. One 26 year old even felt too old!
Contiki does have years of experience though, and offer trips on many continents, with Europe being one of their main focuses.
One cool thing about Contiki is that their tours are very diverse in terms of time, costs and countries covered. Their tours start from around USD 1000 for about a week, going up obviously for the longer trips. Accommodation is always included, and will be cheap hotels, hostels or camping.
Contiki was always known for being party buses. They still have this reputation but over time they are trying to offer more diverse travel styles e.g. more in the nature, camping, adventure and cultural sight seeing.
What kind of people can I expect on a Contiki tour?
Young, young and young. As mentioned above, we have read dozens of reviews, and Contiki is still dominated by 18 to 21 age group.
Most tours will probably involve a lot of partying, so if you are not a big party person, then they might not be for you!
Review of Contiki Tours
We have read many hundreds of reviews online and the majority have come out favourable. Here are some typical comments that came up a few times…
Others travellers tend to be a lot of fun and friendly
The quality of the buses are high and you can get dropped off / picked up in most places
There are usually more girls than guys. Obviously could be seen as a disadvantage or advantage!
Everything is pretty much organised for you.
The above point could also be a downside for some!
The quality of the meals and some accommodation is poor
Not everything is included in the price – you may get the hard sell on some activities.
Overall, we'd recommend Contiki but only if you are a younger traveller. They do seem to be wanting to attract older guests too  e.g. late 20s/early 30s, but they are not quite there yet!
---
Other small group travel companies
There are quite a few other small group adventure travel companies that we should give a mention too. Some of these companies are borderline 'hop on hop off buses' rather than strict small group tours.
What is the difference between hop on / hop off and small group companies?
To tell you the truth, there is not that much difference in many cases. If you stuck to the same schedule as everyone else on the bus, then you'd almost be on a more traditional group tour. Hop on / hop off means you can stay at destinations for longer, and you choose your own schedule. They can still offer to book your accommodation and activities too.
A good example of one is Peruhop that operate a hop on / hop off bus in Peru.
The first list of small group tours for solo travelers will be more traditional trips, then we will mention some of the hop on / hop off tours too.
Explore Travel Review
Explore are UK based and have been operating since 1981. Their main market would be UK customers, but there are links for all English speaking markets. They run tours all over the world and have over 600 trips available in 120 countries.
They are a little more expensive than the companies we have looked at so far. This means that the quality of accommodation is probably better, as would be the transport.
It also means the average age of the travellers would be a little older too, although they try and appeal to all ages. They also have a very good reputation for adventure style trips and activities.
check out some of their deals here…Go to Explore >
Exodus Travel Review
Exodus are another British adventure holiday company, targeting mainly Brits, but also becoming popular in many other countries too.
They specialise in small group & self-guided tours to 100+ countries, with a big emphasis on adventure style travel. Their trips can have you exploring countries, cultures, environments, cities, mountain ranges, deserts, coasts and jungles!
Their reviews on Tourrador are overwhelmingly positive. We read hundreds of them and the only criticism that came up much was the quality of the hotels. The tour leaders pretty much all had glowing reviews!
The tours themselves tend to attract active people, and as they are not really budget tours, you will find more older people too.
They have a pretty active facebook page, so keep an eye on it for any great deals.
check out some of their deals here…Go to ExODUS >
Tucan Travel Review
Tucan are based in North America and have a huge range of tours and destinations. They started out with tours to South America, but have not spread all over the globe, but remain very strong in their original market.
Tucan have wildlife trips, active adventures or escorted tours combining several different countries. Meet local communities, discover new cultures and enjoy an authentic experience travelling around the world.
Their age ranges are usually are 18 – 65, but many of their tours seem to be aimed at the lower end of that. One awesome thing that Tucan can claim is that a 'whopping' 60% of their tours are solo travelers!
We read many reviews and most were positive. We picked out a few common points like the early mornings on some tours are not for everyone, but the tour leaders all seem to get rave reviews.
check out some of their deals here…Go to TUCAN >
World Expeditions Review
Starting in Nepal in 1975, World Expeditions now offers small group adventures to all seven continents, with a variety of activities on offer including trekking, rafting, cycling, mountaineering, wildlife safaris and more.
We have read many of their reviews, and they have a very high percentage of great feedback.
View this post on Instagram
Other Adventure Tour Companies we thought we'd mention
Here is an non exhaustive list of some other companies that we recommend.
Peregine Tours
This smaller company has tours all over the world. Their main target market is older people, and they have many tours in Asia. They are one of the more expensive, high quality options.
White Hill Adventure Treks and Expedition
These guys are based out of Nepal and have an outstanding reputation with awesome reviews. As you would expect, their main activities are trekking in Nepal, particularly the big hitters like Everest base camp and Annapurna. They attract people of all ages who have a passion for trekking.
On the Go tours
On The Go offer tours to a variety of destinations worldwide and are based out of London. They have many years experience in adventure travel. Their main areas are Europe and Asia. They tend to attract a younger group.
Bamba Experience
Bamba Experience was actually set up by solo travellers in 2005 and offers many tours around the world.