The YUCATAN is one of the most popular areas of Mexico to visit with the ever growing resort town of Cancun at it's tourist core. As a solo traveller you might easily be put off by the image of spring breakers or the euro party crew who holiday in the Yucatan but these rowdy groups tend to be restricted to one or two areas.
Where NOT to go on the Yucatan
In a word CANCUN, well actually this is somewhat incorrect because Cancun is a place divided. You have the old town area (or actually it's a new town!) and you have the Hotel Zone or the Zona Hotela.
In the hotel zone you will find Americans on their short vacations as well as the odd stray European too. You will also find Starbucks, Strip Malls and locals hassling you to buy stuff you don't want. An all round bad experience! The other thing about the Hotel Zone is that it's very expensive and you will not find any budget accommodation. Even in the low season it's still not cheap.
Some of the shopping malls in the Hotel Zone are looking very drab these days, the beaches are also crowded or deserted, nothing in between! If you want to party in the Hotel Zone you will be spoilt for choice but I guarantee and expensive night out for you.
Cancun and solo travel do not go well together unless you are prepared to pay huge sums to stay at Adult only resorts which often cater for singles.
Where to go in the Yucatan NOW before it becomes another Cancun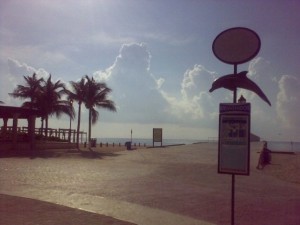 PLAYA DEL CARMEN  is about one hour south of Cancun and a little less from the main Airport (CUN). Everyone refers to PDC as 'Playa' (meaning beach in Spanish) and it's increasingly heading the same way as it's older cousin up the highway.
Playa though has a different low rise vibe to Cancun and is more European in it's feel. It also attracts many European sun seekers escaping their winter time blues.
The main street 'Calle 5' runs on endlessly and is lined with cafes, bars, restaurants and tacky souvenir shops. There are also your chains as in BK, Mcdonalds, Starbucks, Haagen Daas etc but they are well outnumbered by independent places thankfully.
Going one street back from the beach to 'Calle 10' you have even more in the way of independent and local offerings and beyond that it starts to feel like Mexico again, if you can ignore the huge Walmart!
Playa is worth a visit, has a great nightlife and superb beach. It is popular with package tours but still retains a traveler feel although for how long is anyone's guess. Hotels are much cheaper than Cancun but more expensive than anywhere else in the Yucatan.
For a solo traveler Playa is a good bet and very safe for solo females too. It is quite easy to hook up with other travelers as well.
Where to go in the Yucatan
CANCUN?! Yes Cancun, we really mean it, despite what we said before. But we are talking about the other Cancun, the one where the workers of the Hotel Zone reside and where you can still sample everyday MEXICAN life.
Sure there are still the odd American chain lurking but it is much more Mexican around these parts and the value for money compared to the Hotel Zone is simply from another universe.
The streets come alive at night with wandering couples, buskers and street food. Hotel prices are still a little up on the rest of the Yucatan and so would food or beer from a tourist style restaurant,
Probably the best thing about Cancun old town are the transport links.
For the solo Cancun old town is a good place to hang out and with friendly locals and a fun atmosphere you will be much better off here than the Hotel Zone!
MERIDA is the main city of the Yucatan and comes highly recommended for the solo traveler.
Getting to Merida couldn't be more easy from anywhere on the peninsular with the ever reliable ADO buses in operation to all parts.
The city really comes alive at night when the locals come out to drink, eat, play and watch each other. The old city and cathedral part is where the night time action is and well worth lingering a few nights to check out the sights around the city.
In the evenings many of the roads are closed to traffic and tables are placed out in the streets where awesome food is served, in most cases!
In the day there are lots of things to see and do. Merida is a great example of a Spanish colonial town and has lots of interesting old buildings and museums.
A good tip for solo travellers would be to join one of the Spanish schools that have set up in the city.
In terms of safety, Merida scores very highly and female solos should feel safe although some caution should be maintained around the bus stations.
TULUM AND RUINS are a big draw for every kind of tourist from backpacker to luxury cruiser! Tulum town itself is a pleasant enough place to stay if you have no luxury liner cabin to go back to.
Many budget travellers head to the beach areas too but the hotels are smartening up now and prices are rocketing.
The Tulum ruins themselves are certainly worth a day or two, best to get there early before the hordes turn up on the coach tours or try and stay for sundown for those unforgettable images.
CHICHEN ITZA which means "at the mouth of the well of Itza ", is the 2nd most visited archeological site of Mexico today and one of the seven new wonders of the world. Of course it would foolish to come to this region and not see it for yourself but in our opinion one day is enough and you should be prepared to be hassled buy the army of hawkers who are out for your dollars.
That said it's well worth the effort and as a single travellers you have the option of going independently or joining a tour.