Ok I know what you are thinking. How on earth can these Scando countries be cheap for solo travellers? Well it's possible. Do not be put off by stories of $15 beers and $50 dorm beds! While this is true to an extent, it's still possible to have an affordable time in Norway and Sweden.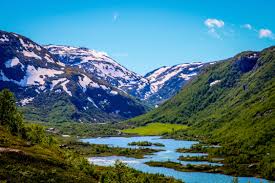 Let's look at Norway first..
Budget Solo Travel Guide to Norway
Famous for Fjords and pointy helmeted warriors, the westernmost point in Scandinavia has plenty of activities for outdoor lovers, not to mention heaps of city attractions and nightlife. The sun never sets in the summertime in the north and skiing was invented here. And then there's the Vikings…
Budget Accommodation in Norway
Sleep for free on board the Hurtigurten steam boat as it travels up the coast. Hostels are plentiful in the cities and are afiliated and pensions and private rooms in family homes are also a money saving option. If you want to camp you can do it anywhere as long as you're at least 150m away from the nearest dwelling house and leave no trace behind when you leave. Alternatively you can stay on a campsite if you want some facilities and some of the campsites have basic cabins to rent which will usually include cooking facilities.
A Traveller's Budget for Norway
The public transport system in Norway is superb with most forms of transport timed to link with one another. Some bus routes in the north will offer discounts for Euro rail pass holders plus discounts are available for students and seniors. Try and book in advance online, MiniPris tickets offer extremely good value for money but you have to get in quick.
If you want to eat cheaply you can use the supermarkets or try and stick to bakeries and foodstands in the city. You can fish without a licence from the sea giving access to a range of free food. In Bergen, try out the Studentkafeene at the uni or Cafe Edgar in the Studentersamfundet in Trondheim for ridiculously cheap food.
Activities in Norway
-Experience the midnight sun or watch the Aurora Borealis in Tromsø
-Oslo holds an annual Constitution Day celebration on 17th May where the locals wear national dress for the day
-Hike in the Jotunheimen or Hardangervidda
-White Water Rafting – check out Norges Padleforbund for a list of operators
-Go cross country skiing
-Take the train from Oslo to Bergen for some stunning scenery
-spend some time looking at the medieval ruins and museums of Bergen
-Visit Nordkapp, the Northernmost point on the European mainland.
Sweden Budget Solo Travel Guide
The Swedes are renowned for their cleanliness, efficiency and exporting affordable practical furniture, but there's more than that to Sweden. A landscape rich in lakes and forests, cities steeped in history and a stunning coastline as well as some great nightlife are all accessible if not quite as affordable as in some other European destinations. Still, it's worth a look and you can do it without breaking the bank.
Budget Accommodation in Sweden
Hostels are plentiful, an HI card will usualy get you a discount, in Stockholm Hotels often offer a discount at weekends which can bring the price down considerably and they usually include breakfast. Camping is extremely popular in the summer, the price varies depending on the facilities which range from very basic to those with a swimming pool, restaurant and minigolf.
If you're in the mountains there are often mountain huts and lodges, and some cabin style accomodation can prove cheap if there's a group staying. Wild camping is acceptable and fires are allowed where it's safe.
A Traveller's Budget for Sweden
The public transport system is excellent in Sweden and you can get a ticket which covers trains and regional buses which is handy as there are many operators and it can get a bit confusing. Buses replace trains the further north you go, but you can use most Euro rail passes here. Discounts are often available for students and under 26/over 60 and it pays to book tickets ahead.
Cycle touring is definitely an option, with many areas having dedicated cycle routes. You can pick up information and maps from local tourist offices and most towns have bike rental shops.
There's also an extensive boat network to many of the smaller islands and around Stockholm.
Activities
-Hiking, there are places to hike everywhere in Sweden with more serious mountaineering in the north. There is a public right of access to land as long as you respect privacy and avoid gardens and cultivated land.
-Cross country skiing on marked trails which are pretty much everywhere during winter.
-Sailing and Kayaking in the summer.
-Try Dog Sledging in the winter for something a bit different.
-Have a look at the original Viking ship in Gothenburg.
-Check out Stockholm's excellent nightlife.
Keep in mind that backpackers travel insurance is needed for both Norway and Sweden as health care is very expensive, like everything else!