Solo Traveling in Ecuador
Apart from the Galapagos Islands which must be the major pull to Ecuador, unless you're doing a world tour based on Sash song titles, there are volcanoes jutting out across the land, snow capped peaks and wildlife galore. The capital is bursting with internationals here to learn the language and with the resultant nightlife.
How to get to Ecuador and where is it?
Ecuador is on the north west of the South American continent. It's main gateway is the capital city, Quito which very much embodies the essence of the country.
Markets, colourful streets, colonial churches and cathedrals are found along a valley surrounded by active volcanoes, with the great Cotopaxi in the background.
The airport is a busy international gateway and you get to Quito from most major North and South American capitals. It is also possible to arrive overland from Peru or Colombia.
The Galapagos Islands are only really accessible but flying in from Quito.
Budget Accommodation in Ecuador
Most of the hotels are cheap so you won't have to look too hard, especially outside the capital. You can camp absolutely anywhere, there are no campsites as such, but it's best to ask the landowner and then camp within sight of their house for safety.
It's not generally safe to camp at random in places close to towns, you might be safer in the wilderness.
As with most countries, the further you get away from the big cities, the cheaper accommodation will be.
A Traveller's Budget for Ecuador
The food is cheap regardless, if you're on an especially tight budget get the set meals in restaurants which shouldn't set you back more than about US$5. If you can supplement this with some of the beautiful fruit on offer you'll be doing great.
Travel is by abundant bus services covering the country. As per usual the cost goes up proportionally to the level of comfort. Hitching is possible but usually unnecessary as there are so many buses.
Activities for the Budget Traveller
Mountaineering – some of the best peaksare volcanoes, check they're not about to kick off.
Diving off the stunning Galapagos Islands
The same off the Isla de la Plata if the Galapagos are too pricey for you
Rafting or Kayaking through the Rainforest
Mountainbiking in the Sierra
Horse riding, there's a strong tradition of riding and it's a great way to see the countryside.
Safety for solo travelers in Ecuador
Firstly always ensure you have travel insurance options the time you are going to be in Ecuador as medical costs can be very high!
OK, Ecuador does not has the best reputation when it comes to backpacker safety. That said you should not be too paranoid and let it ruin your time in Ecuador.
Try and not walk around cities at night on your own, particularly the old town of Quito. Robberies do occur here and tourists are frequently the target.
Do not carry anything on you that's valuable, particularly at night. Try and keep most of your valuables in your hostel, providing they can be locked up there.
Be careful when taking money out of ATMs, particularly if you are outside a bank.
Remember to consult your local travel advisory for Ecuador…
UK Govt advice for Ecuador >https://www.gov.uk/foreign-travel-advice/ecuador
US Gov advise for Ecuador > https://travel.state.gov/content/travel/en/traveladvisories/traveladvisories/ecuador-travel-advisory.html
February is a good time to be in Quito
February is a good time to travel to the Ecuadorian capital in 2019: you'll miss the busy Carnival days in March, but get mild weather. Surrounded by snow-capped peaks, Quito has a historic quarter that was designated as an UNESCO World Heritage Center.
Must-see highlights include La Compañía de Jesús, a Jesuit church with a Baroque-style interior that fuses elements of Moorish, Flemish, Italian, and indigenous art. Nearby on Plaza de San Francisco, the 16th-century Monastery of San Francisco is a notable Catholic church: It's the largest architectural structure in colonial Latin America and Quito's oldest church.
The Basilica del Voto Nacional is the largest new-Gothic basilica in the Americas, a two-spired Catholic cathedral that looks over the city. The church isn't technically finished—in fact, local legend states that once it is finished, the world will end—but it's worth checking out, especially for the views (which you can see by climbing the towers) and the turtles, iguanas, and armadillos that act as the gargoyles.
Quito also has a market for practically anything you'd want to buy, and in February, during the wet season, you'll actually get plenty of sun for strolling the stalls. For traditional Ecuadorian clothing and crafts, such as alpaca sweaters, woven baskets, or leather bags, head for Mercado Artesanal La Mariscal. With hundreds of vendors selling artisan goods, it's a great spot for souvenir shopping. Art enthusiasts and would-be collectors should stop by Parque El Ejido, where local artists sell their work on weekends.
Ecuador Travel Tips
Ecuador is a wonderfully welcoming place, and traveling around the compact mainland is an easygoing, entertaining and scenic experience.
Based on your preferences and budget we can provide full time drivers and guides, or just provide you with a vehicle and driver.
However you decide to travel we will ensure that you get the most from your trip, whether you are making something of a road trip and are moving on each day, or staying at one of the haciendas for a few relaxing days.
Extended stays
We like to take clients with sufficient time on a journey down the length of the country, dispensing with the need for internal flights and ensuring you see the most of the magnificent scenery of the country.
Language
The official language is Spanish, although it is not the first language of the majority of the indigenous population. English is understood and spoken by many in the tourist industry.
Food and drink
Ecuadorian food is based around meat or fish, rice and plantain, and is generally cheap, tasty and plentiful. There are dozens of exotic fruits such as naranjilla, maracuya and guanabana that are made into delicious ice creams and juices.
Money
In September 2000 Ecuador abandoned its century-old currency (the Sucre) and began using the US$. Change is always scarce, many places will not accept notes bigger than a US$20, nor will they accept any notes that are ripped or dirty. ATM's are available in the major cities and towns. Visa and Amex are widely accepted (Mastercard to a lesser degree).
Tipping
Tipping for good service is an accepted fact. Amounts are discretionary.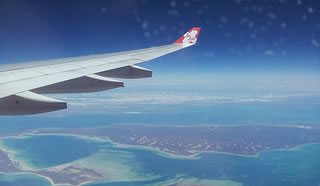 Getting Around Ecuador – Further Advise
Streets and highways:
Ecuador has a good road network, even if street conditions are often not good – potholes and cracks are not uncommon. Many roads have suffered in the wake of earthquakes and floods and have been only partially renovated. However, there are well-tarmacked roads between Quito and Guayaquil, Latacunga, Riobamba and Ambato.
Ecuador has a very high road accident rate. It is common for drivers not to stick to basic safety rules.
Bus:
Quito and Guayaquil have a good network of buses with set prices.
As in many parts of South America, long-distance buses are the best way to get between two cities. Bus connections on tarmac roads are reliable by local standards. It is worth reserving a seat for the main routes between Quito and other cities, as these quickly fill up. Quito has two bus stations: Carcelen in the north and Quitumbe in the south. It is worth noting that buses in particular often suffer accidents, so it is better to avoid travelling in the night.
Train:
In Ecuador, old train routes are gradually being reactivated. They go from Quito to Latacunga, Riobamba to Urbina, Riobamba to Colta, Alausi to Sibambe, Ibarra to Salinas, Duran to Bucay and El Tambo to Coyoctor.
The so-called "Devil's Nose" (Nariz del Diablo) runs from Alausi to Simbambe, over a snaking route through the mountains and gorges, with an extraordinary view. The historical Tren Crucero runs from Quito to Guayaquil (www.trenecuador.com) in four days, as well as from El Tambo to Baños del Inca, from Ibarra to Salinas and from Riobamba to Urbina.
Taxi:
Taxis in Ecuador can be cheap when you travel with several people. In larger cities, a meter is used at least during the day. At night, the price must be haggled with the driver.
Rental car:
Cars can be rented from international companies like Avis and Sunny Cars.
Ship:
Guayaquil has the most significant port in Ecuador, but there are few cruises. Other port cities are Puerto Bolivar, Esmeraldas and Manta. There are rivers in the Amazon area that are suitable for travelling, if only by canoe. Ships to the Galapagos Islands are rare, as most people fly and then cruise around the islands once there.
Ecuador in January-February
The Galápagos are pleasantly warm and clear in January and February, making for the best snorkeling season. The mainland at this time is experiencing almost daily thunderstorms and fog coverage—temperatures are lower, making for a comfortable climate.
Ecuador in March-April
Sun exposure in the Galápagos is most intense in March and April. The rains begin to subside, but torrential downpours are still possible. For many, this is the best time for surfing off the Ecuadorean coast.
Ecuador in May-June
May marks the end of the rainy season. Many roadways in Ecuador are drenched in water, so detours and closings are common. The dry season is peak bird-watching time in the rainforest, with beautiful species like the gray-headed kite, yellow-tufted dacnis, and guira tanager more common. With strong winds hitting the Andes, the resulting moisture pushed to the lowlands creates thick cloud forests over the jungle. The mainland climate tends to be muggy with overcast skies.
Ecuador in July-August
July and August is winter in Ecuador, so high-altitude hikes are comfortable in mid-70's temperatures. With stronger currents in the seas, visiting bustling Quito or charming mountainside villages are popular.
Ecuador in September-October
September is the best time to visit the Amazon. Less rain means fewer mosquitoes, lower rivers, and better trail access. Through September is the Ecuadorean winter—cooler temperatures mean high-energy excursions are more manageable. October is the beginning of the rainy season, dropping regular rainfall until May.
September marks the end of a vacation season, so by the end of the month there are generally fewer tourists. Prices will be lower, and popular tours and attractions—especially the Galápagos Islands—will be less crowded.
Ecuador in November-December
A couple of months into the rainy season, vegetation is now lush and thick everywhere. Insects are more plentiful and wildlife is harder to spot amid the increasing rains.